In Memoriam
George Ehrenfried
NSS 2099
Born  1-Oct-1913
Died  5-Jan-2010
age 96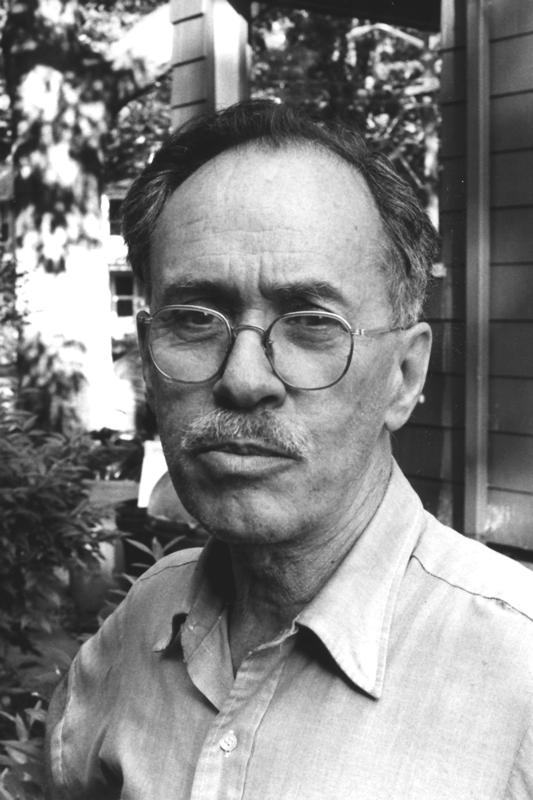 George Ehrenfried was the most senior caver, outdoorsman, and Geologist that I've ever known, and ever likely to know.  When I joined the Boston Grotto in January 1977 at age 24, George Ehrenfried had already been a member longer than I'd been alive!  In fact, he was already 7 years older than I am now!   This is my meager attempt to celebrate the extraordinary life of a great friend and companion.
The month that George was born in Boston, Pancho Villa was still fighting the Mexican Revolution, the Lincoln Highway (the first automobile road across the US) was dedicated, the modern US Federal income tax was established, and construction was completed on the Panama Canal.  I say these things because George had an amazing memory for history. One of his endearing traits was to tell wonderful stories of occurrences at various locations (by car and on foot) that we passed on our trips.   I would then often ask: George, when did that happen?  Often, he would reluctantly admit: in the '50s, '40s, or even earlier – generations before!
George parents were from Maine.  His father, Albert, was a second generation American whose parents emigrated from Germany. The George Ehrenfried Dry Goods Company that they founded in the early 1870's became the second largest retail store in Lewiston.   This establishment generated sufficient income to send the children and grandchildren to the finest schools in the country and purchase property in downtown Boston. Albert attended Harvard College and Harvard Medical School and became a prominent surgeon attached to several Boston area hospitals in addition to the Harvard Medical School faculty.  Albert married George's mother, Grace Waterman, a Vassar girl from Bangor, ME, in 1912.  The family lived in Boston and Brookline, MA.  George was the oldest; he came along on Oct 1, 1913.  I know that first hand, because on Oct 1, 2008, at the regular Boston Grotto meeting, George proudly showed me his just-renewed MA driver's license showing his age of 95!  George's sister Fredricka ("Fritze") came next, in 1916, then Constance ("Connie") in 1919.  Sadly, both pre-deceased George by several years.
Father insured that young George had the best education, attending first the prestigious Buckingham & Nichols school (now BBN), and graduating from Phillips Exeter Academy in 1931.  Harvard College naturally came next, where George's spirit of joining organizations is first documented – he immediately joined the famous Glee Club and participated all four years until his graduation with an AB in Chemistry in 1935.  His boyhood interest in geology was further fueled by a Mineralogy class that he took while at Harvard given by noted Professor Charles Palache, an interest he would avidly pursue for the rest of his life.  One of his summer jobs between college terms was prospecting for economically important minerals up north of Moosehead Lake in Maine.  Talk about a great job for an outdoorsman!  
George points out a native sulfur deposit at a steam vent in Iceland
Those were in the days when the cut trees were brought to big sawmills using springtime log drives down the large rivers – Androscoggin, Penobscot & Kennebec.   George loved to tell the story of his "Big Flood".   To control the intensity of the spring runoff, to maximize the time available to drive the logs, the timber companies built dams on all the tributary streams in the Maine woods.  The collected water from the winter snows was released from the small dams in a careful sequence, to properly maintain the flow in the big rivers. While George was working alone out of the old construction Headquarters of a new dam one spring, he got a phone call from the management, instructing him to open those sluice gates for the very first time. As he turned the big control wheel, all the water behind the dam was released at once – creating a huge flood downstream.  He watched in amazement as bridges and logging cabins were washed away in a great roar!
His chemistry degree earned George a job offer from Eastman Kodak in 1936, at their new Research Labs in Rochester, NY, where he worked until WWII, earning 4 US patents for photographic chemistry.  He was in at the beginning of mass market color photography, working on the early development of making color prints from Kodachrome slides – introduced by Kodak the previous year.  While in Rochester, George joined the Genesee Valley Hiking Club, whose outings he enjoyed long after he moved away.  He participated in GVHC's annual field trips well into the 1990s, enjoying the company of the 2nd, 3rd, and 4th generations of families of his friends from the Kodak days.  With them, he hiked most of the wilderness areas of America and Canada.
At the start of WWII, George moved to Cambridge, MA to work in the Receiver group at MIT's famous Radiation Laboratory (Rad Lab), that developed radar – one of the two secret weapons (with the atom bomb) that helped win the war.  George told me about the semi-automatic aiming systems for anti-aircraft guns that he worked on.  The old Submarine Signal Company had an active hiking club that George joined shortly after moving back to Boston, the Sub-Sig Outing Club.  The SSOC stayed together even after Sub Sig itself was absorbed by Raytheon after the war, and still exists.   George was active with SSOC until well into his '90s, outliving his original friends there as well.  George was proud to tell me that the Appalachian Trail Conference accepted SSOC's bid to become the official maintainer of a section of the trail.
When the Rad Lab was phased out in 1946, George again moved to the forefront of a new photographic technology, when Edwin Land recruited him to join the fledgling Polaroid Corporation, in the wonderful (then new) Art Moderne building on Memorial Drive. Polaroid was developing the revolutionary new concept for the mass market - instant photography.   With George's help, Polaroid instant film in black and white was introduced in 1948. George was also an essential member of the team that developed the much more complex instant color film technology, introduced in 1963. He also joined the Photographic Society of America (PSA) in 1947, and remained a member until his death. He also joined the Boston Mineral Club in 1947 to further his amateur geological interests. 
Throughout the rest of his career, George worked on a wide variety of the company's innovative photographic, optical, and related products, including 3-D prints!  He earned another US Patent at Polaroid for a distance measuring device.  He was one of the founders of the New England branch of the Optical Society of America.  For his work in imaging science, in 1986, George received the Outstanding Service Award from the Society for Imaging Science and Technology.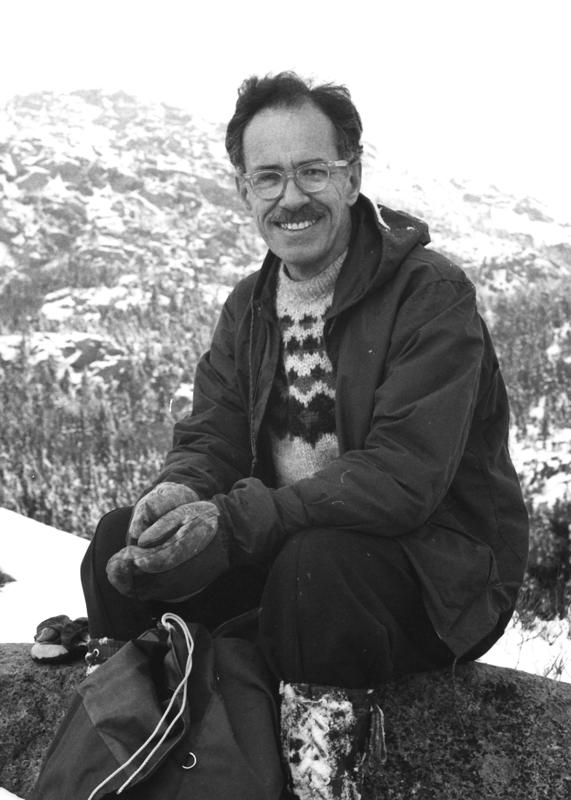 George posing on a mountaintop on a winter hiking trip
All through his career in Boston, George continued to join and contribute to the outdoor, conservation, and scientific organizations in eastern Massachusetts and the surrounding areas.  I'm sure I'm only aware of a minor subset of them.  The ones he mentioned frequently were the Boston Mineral Club, the Cambridge Conservation Commission, the Boston Camera Club, the Brookline Bird Club, and the Friends of Mt. Auburn Cemetery and Alewife Reservation in Cambridge.   He taught photography courses for the Adult Education programs in both Boston and Cambridge.  He led many hiking trips for the Appalachian Mountain Club. On one of our Grotto trips, I boasted that I belonged to 3 river conservation organizations near my home in Nashua, NH; in upstream order:  The Merrimack River Watershed Council, the Nashua River Watershed Association, and the Nissitissit River Land Trust.   George just smiled and then topped me: He not only belonged to THOSE organizations, but also to the Beaver Brook Association in Hollis, NH – a tributary to the Nissitissit River!   He led cross country ski trips on the Beaver Brook land into his 70s!
George's interest in Geology and Mineralogy continued to broaden and deepen.  He lived so long, and attended so many local geology functions, that he became an expert on New England geology in general, and the geology of the Boston area in particular.  For over 20 years, he taught a "Geology of New England" course at the Cambridge Center for Adult Education.   This course included local field trips, and Boston Grotto members frequently joined in.  We especially enjoyed his trips to Nahant, where we viewed volcanic dikes and sills, Pudding Stone, epidote, and Swallows Cave.  In 1991, he gave a short lecture on the geology of Cambridge, which has since been posted on the web by the Cambridge Civic Journal as their main resource for Cambridge geology.  It provides a good glimpse into what it was like to converse with George.    To the best of my knowledge, George's last paid employment was in the Geology field, he worked for Geology consulting company in 1992. He gave a lecture on New England Geology to the Boston Mineral Club as recently as 2005.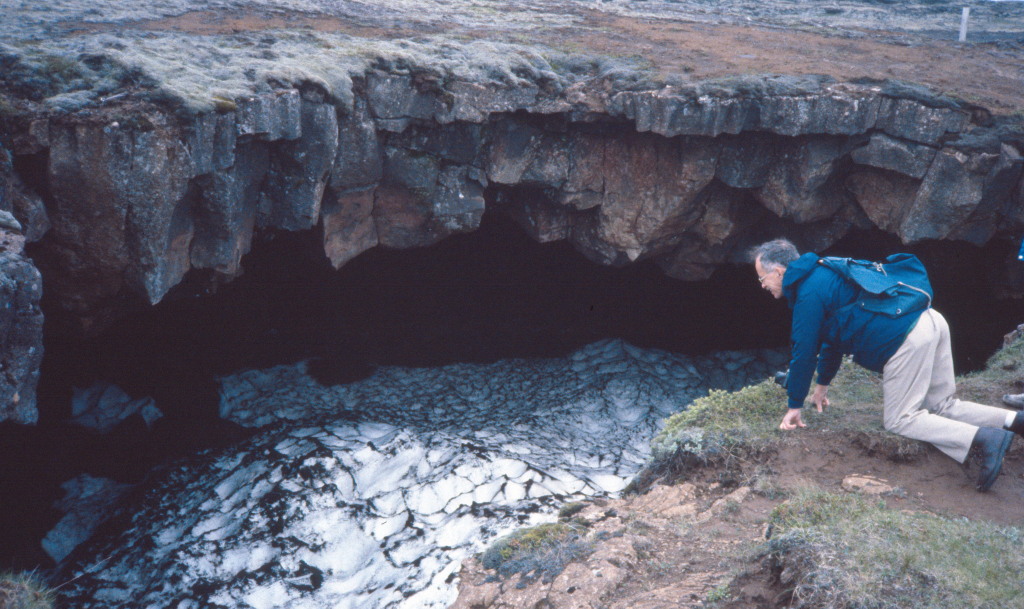 George peers into an Icelandic lava tube cave: Raufarsholshellir - "Roof Hole Cave"
George was first exposed to the fledgling National Speleological Society in 1951, after being recruited at an trade show booth at an Outdoor merchandising show manned by the just-formed MET Grotto (New York City). Shortly thereafter, George helped found the Boston Grotto, originally as a splinter group from the MIT Outing Club.  I fondly recall him telling stories of the early days of the Grotto – the people and the politics.   Many people that became prominent in NSS politics in subsequent years had passed through Boston and the Grotto and caved with George.  He participated in early trips using primitive techniques for vertical caving – hemp ropes, hoists, double rope techniques, body rappels, etc.  Often, his stories of the reliability problems with that old equipment made us cringe.  He told us that, to test hemp ropes for rot, the standard practice was for two people to hold the ends and rush apart as fast as possible.  If the rope didn't break, it was OK to rappel on!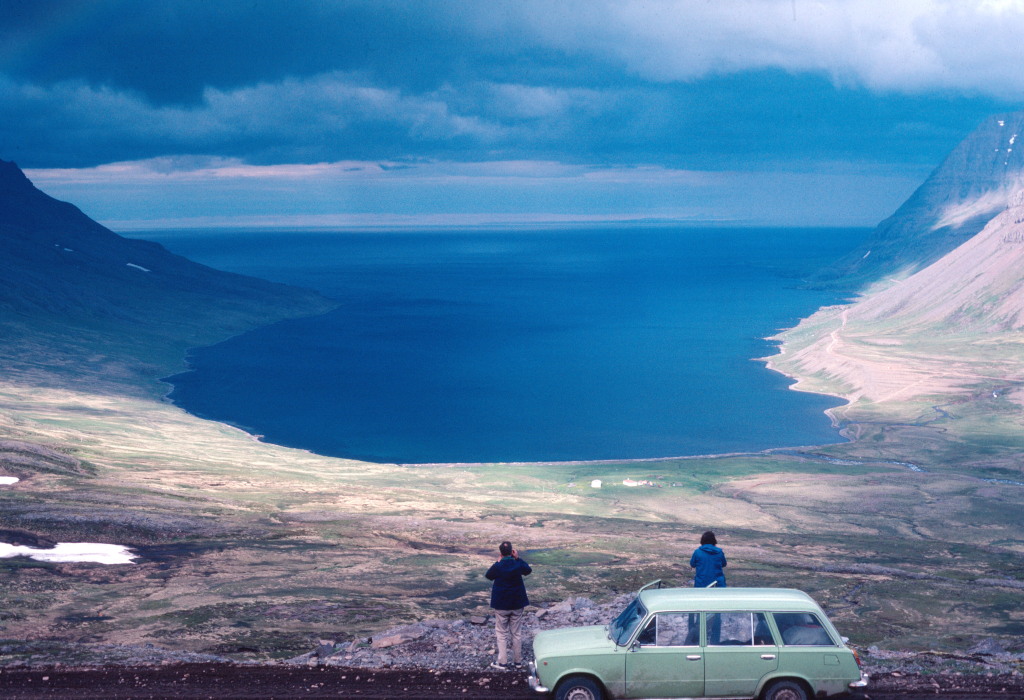 George views an Icelandic fjord: Fjardharhorn
Sometime in the '50s or '60s, George fell in love with the country of Iceland.  He made more than a dozen visits there, each of several weeks duration – corresponding with friends to find the most interesting sites to visit.  I accompanied him on one of those visits in July 1983.  It was one of the most memorable adventure trips in my life.  Of course, he was an expert on the geology, and showed our little party all things volcanic, all up and down the Island.  We did car camping and stayed in hostels, visiting caves, spectacular waterfalls, lava features, ocean views, glacier views, and all sorts of exotic landscapes, such as Dimmuborgir. 
George views the magnificent Icelandic waterfall Skogafoss - "Forest Falls"
We visited the home of one of his friends when we were in Reykjavik – I was flabbergasted by the size of his rock collection – it rivaled the one at the Harvard Mineralogical Museum.  George was particularly delighted when we discovered a tiny little advertisement, on a gas station window, for a hostel far up on the Westfjords, north of Holmavik.   So we spent all that long afternoon driving on a perilous gravel road that hadn't quite been finished, back and forth around fjords with a giant mountain on one side and a steep cliff into the Arctic Ocean on the other.  In spite of the gorgeous scenery, I was never so glad to arrive at a destination in my life! When a volcano punched a hole in a glacier in Iceland in 1996, were never tired of asking George the correct Icelandic pronunciation of the word for the phenonmenon where the heated water bursts out from under the glacier.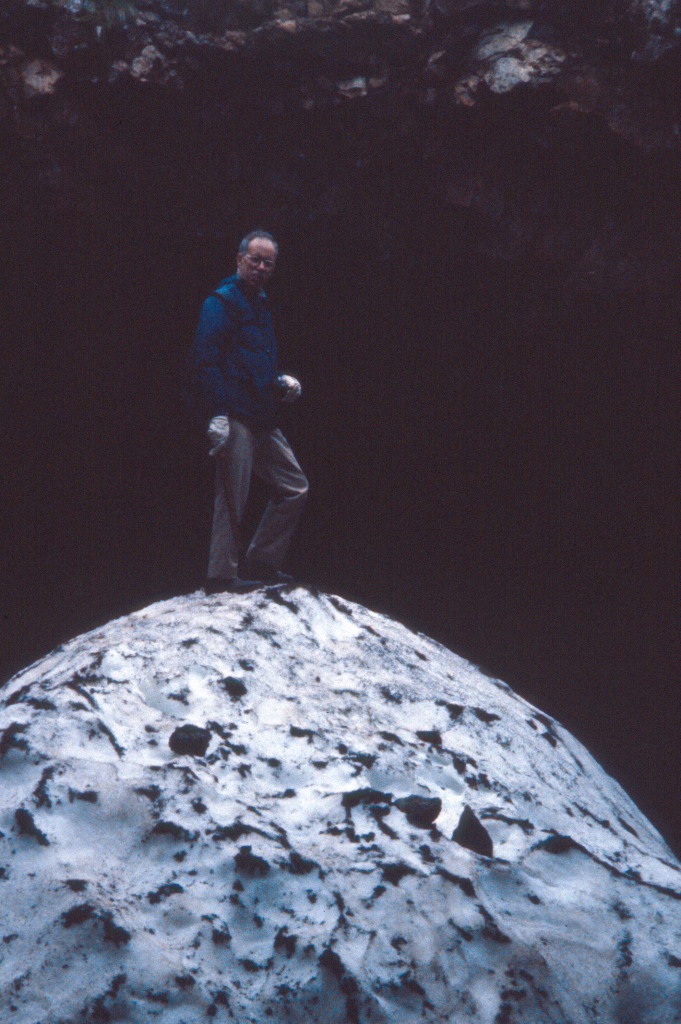 George on top of the snow pile at the entrance to Roof Hole Cave in Iceland
In his time with the Boston Grotto, George visited many of the caves then known in NY and New England.   He was often aware of the early history of now-famous caves when they were much lesser known.  For instance, he visited Ward and Gregory caves before they were connected in the '60s.  He visited McFail's Cave before the old McFail's entrance collapsed. He visited Knox Cave when the old Ice Rink was still in operation.  He was one of the original explorers of Mystery Cave in NY, down near the NJ border.  He was on the discovery trip for a major new section of the cave.  When John Evans first organized a cave-rescue call-out list for the Northeast in 1980, George gamely signed up – at age 67!
By the time I knew him, he was already shying away from the tougher caving trips, preferring trips to small caves with significant hiking involved.  His hiking stamina was extraordinary – it wasn't unusual for him to out-climb people 50 years his junior.  But he was always patient with us stragglers.  He often led combination hiking-caving trips to the mountains of Western MA, northern NH, and northern ME.  These were often joint trips with the Grotto and friends from other hiking clubs in the area.  His favorite was Tumbledown Mountain in western ME, where he liked to hike the old Tumbledown Chimney Trail.  The upper section of this trail is actually a 150 foot Grade 5 climb up a steep notch, underneath an enormous boulder.   So it was, technically, a caving trip!   I joined this trip with him twice, the second time he was well into his '80s!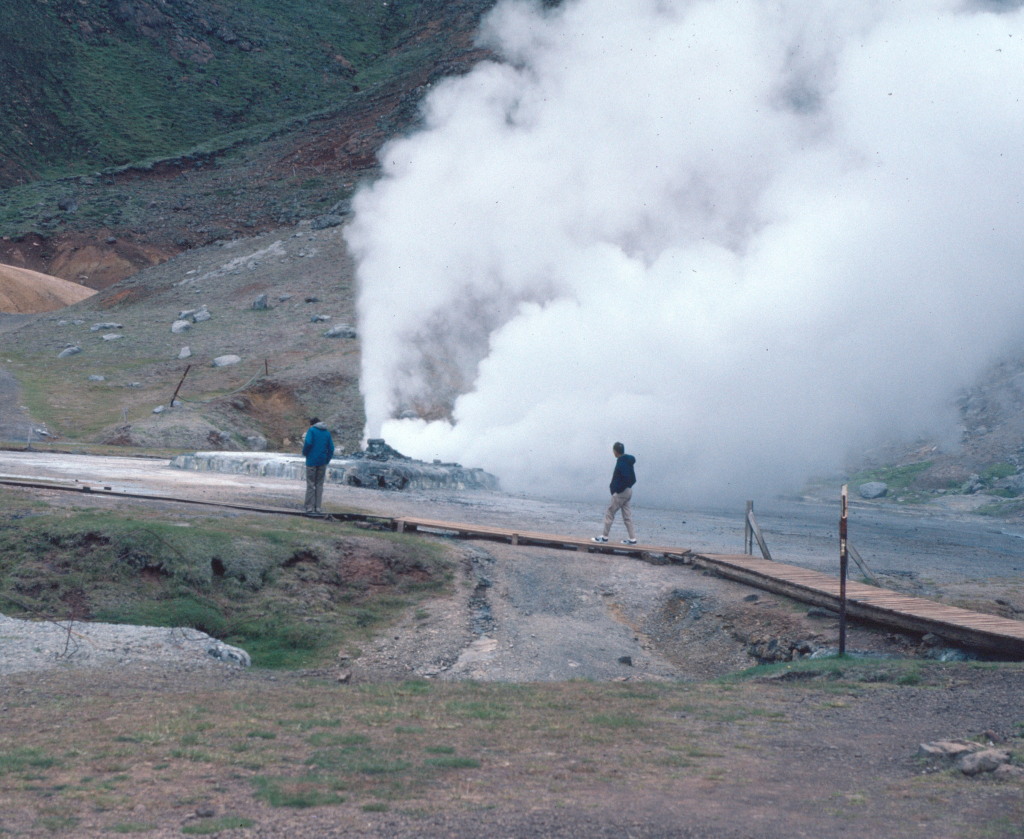 George views a steam vent in Iceland
One of the interesting phenomena associated with George was the fact that he had been on so many outings in New England, that practically every place had some significance for him.  It wasn't unusual, on a long trip, for him to be in mid-story about one place, when he passed another place and started a new story before finishing the old one.  Sometimes he would get 3 or 4 stories deep before he could finish them off!  
Another phenomenon was his equipment.  He was always looking for good equipment deals and solutions to hiking and camping problems.  When he found one, he would hang onto it, use it, and repair it, sometimes for decades!   On a trip, when we would show off our spiffy new gizmo, he'd happily show off his old one, now 20, 30, 40, or 50 years old, and exclaim how wonderfully it worked and how great a deal it was originally.   Little good that did us, we would grumble: his gizmo had been off the market for so long that you couldn't even find it in a flea market!
It was in the Boston Grotto that he met the love of his life, Joanne Roberts, in 1957.    Although he courted her for several years in the '50s and '60s, she married a Dutchman, and moved to the Netherlands.   They remained friends, however, and she saw him frequently on family visits back to the states.  I met her twice at grotto meetings and she gave me a tour of Amsterdam when I visited on business in 1995.  Shortly thereafter, following a divorce from her husband, her relationship with George was rekindled.   She was in the process of moving to back to the US to live with George when she was tragically killed in a hit-and-run car accident in Holland.   George was devastated, of course, and he reminisced about his times with Joanne frequently.
After he retired from Polaroid in 1985, he bought the house on Aberdeen Avenue, in Cambridge, near Fresh Pond and the Mt Auburn Cemetery.  He had several roommates in the first few years, but lived there alone for most of the time since then.  He hosted several grotto functions, there, and we loved to talk about all his old photographic and other memorabilia.  He had a full darkroom, and printed his own photo greeting cards every year, for over 50 years.  He always chose one of his favorite scenes from a wilderness trip during the previous year as the subject, accompanied by his personal holiday message.    He sent hundreds of these greetings each year.  Unfortunately, he had major structural problems with the house – two of the basement walls cracked badly.  It cost him a small fortune to jack the house up and repair the foundation properly.
For all his scientific and historical knowledge, George was woefully ignorant of much of popular culture.  He never watched TV, for most of his life he didn't even own one.  Or go to movies. He did listen to National Public Radio religiously in the morning and evening.  He knew lots of songs, but many were so old that most of us cavers had never heard of them.  He read the newspapers, so he was aware of local and national news, but the obsessions of nerds and geeks of the high-tech era – Star Trek, Dungeons and Dragons, Frodo Lives, and the latest sitcoms, were entirely foreign to him.
In 2003, when his health had really begun to decline and he started having trouble walking, he volunteered to help a friend who had recently badly injured her back.  She stayed on at his home, while her back slowly healed, and they helped each other through some of their hardest times.   And she brought him, sometimes kicking and screaming into the 20th and 21st centuries.
She provided George with a digital TV set, telephone, answering machine, new computer, all-in-one printer, and numerous other modern "necessities". George's friends were glad to see that this arrangement had worked out.   George himself was stunned at the speed with which he acquired email communication and web access, and what could be done with them. He was, of course, especially intrigued by the imaging and photographic software he could use on his new computer. He did, however, continue to collect hand-me-down electronic equipment for which he often needed help. 
George remained mentally sharp to the very end, enjoying a holiday outing with his cousin Albert's family in Boxborough, MA.  George died peacefully in his sleep on Tuesday, 5-Jan-2010, at around 8pm, aged 96.  He is survived by his three first cousins, Albert D. Ehrenfried of Acton, MA, David W. Ehrenfried of Lewiston, ME, and Eleanor Harris Solomon of Chevy Chase, MD and their families, and his dear friend and long time companion Linda. 
All his old friends from the Grotto and his other clubs and societies will greatly miss him as well, of course.   He outlived many of his friends from the early days of the GVHC and SSOC, but he has touched thousands of lives through the years, in clubs, trips, and his famous slide lectures.  Not to mention the millions of photos that he contributed to indirectly, with his work for Kodak and Polaroid.   We'll miss him, big time.
-Kevin Harris, NSS 16868, 11-Jan-2010